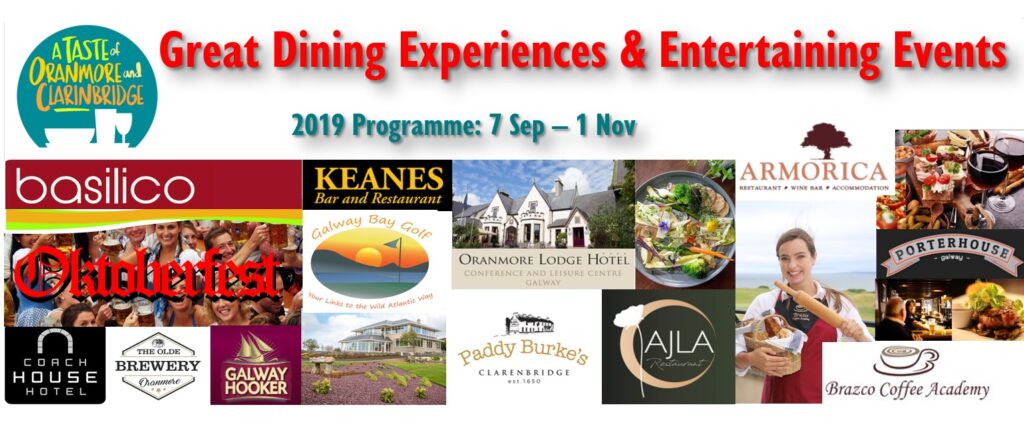 As we plan our 3rd year's programme of events for the 'Taste of Oranmore & Clainbridge' (ToO&C) I'm delighted to announce that, in addition to the regular 2 month / 10 event programme of fine dining & fun activities throughout September – October, we will be introducing three 'Chef to Impress' Cookery School weekends.
Three of ToO&C founder member's: Basilico, Armorica & Brazco Coffee Academy have teamed up to create this fun & instructive weekend package suitable for anyone looking for ideas or improving their skills when cooking for friends or family. See below for details of this package and how you can reserve a place.
The Taste of Oranmore & Clarinbridge 'Chef to Impress' Cookery School was launched at the Holiday World Exhibition in Belfast on 19th January, where we exhibited as members of the Discover Galway – Food Experiences stand. A week later the Holiday World exhibition moved to the RDS, Dublin and members from Brazco, Basilico & Armorica travelled to promote the programme and received a great response to their Master-Chef-style events although, judging by the crowd reaction, the star of the show must surely be the chocolate-covered caramel, oats & peanut butter treats that Linda Sinead from Brazco Coffee Academy had prepared!  Much thanks must go to Deirdre Tully – Ruiz, Community, Enterprise and Economic Development prime from Galway County Council for choosing Taste & of Oranmore & Clarinbridge as one of the exhibitors for the Discover Galway – Food Experiences stand.
Join one of the 'Chef to Impress' Cookery School and learn 3 European Cooking Styles in one weekend!
Our award-winning chefs will guide you, step-by-step, through hands-on practical classes & demonstrations a 3 course Dinner menu, that includes fine French cuisine & hearty traditional Italian dishes, and traditional Irish baking recipes that are sure to impress at any dinner party or casual gathering.
Chef / Instructor Profiles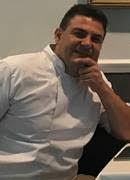 Paolo Sabatini
Executive Chef & Joint Owner Basilico
Paolo Sabatini, along with his business partner Fabiano Mulas, are the driving force behind Basilico, an authentic Italian restaurant in the Coach House Hotel at the heart of Oranmore Originally from Rome, Paolo graduated from the Culinary School of Viterbo then developed his skills in restaurants of Rome, Viiterbo, Savona and Trento before progressing to cook in award-winning 'Zeffirino' (Las Vegas) and 'Da Roberta' (Galway).
His parents still own a vineyard and distil
their own olive oil that they supply to a small circle of friends including Basilico. Paolo's mother, Mirella cooks beautiful dishes with rich ingredients, the secrets of which have been passed down and now incorporated in many of Executive Head Chef, Paolo's mouth-watering recipes.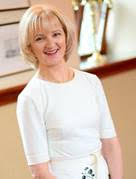 Maureen Lydon
Baker & Joint Owner Brazco Coffee Academy
Maureen Lydon has honed her baking skills over the last 45 years in hospitality. Fourteen years ago, she and her daughter Linda opened Brazco Coffee Academy where they share their baking, culinary and coffee skills with locals & visitors of Oranmore on a daily basis. Her recipes have been passed down through generations of bakers and she loves to share the unique tips and tricks she has developed over the years.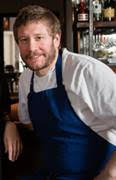 Nicolas Denis
Head Chef & Joint Owner Armorica
Nicolas Denis grew up in Normandy where he developed his passion for cooking from his grandfather. Nicolas embarked on a culinary career and has been in Ireland for 15 years working as a chef, starting in a popular French restaurant in Waterford City then progressing to head chef at 'Azzurro' in Dunmore East. Nicolas then went on to work in some of Galway's top restaurants including Michelin Star Aniar Restaurant, Il Vicolo, and Cava Bodega, where he met Natasha.  Natasha and Nicolas decided to combine their decades of service and culinary expertise, and passion for good food, wine and hospitality, to open 'Armorica' in 2o17.
Cookery School Programme Details
Saturday Cookery School Workshop 10am – 5pm  Location: Calasanctius College
Chef's Paolo & Nic will welcome you to their hands-on interactive cookery class utilising the home economics teaching facilities of Calasanctius College. Each person will have access to a workstation with sufficient ingredients and utensils to prepare & cook their version of the menu that Nic & Paolo will first demonstrate then guide you through each step.
Breaks between cooking will be hosted by Basilico staff who will serve the dishes that have just been demonstrated, enabling time for Q&A.
The Menu:
Starter: – Italian Pasta Masterclass: Ravioli
Main: – Meat Cooking: French Style
Side Dish: – How to Prepare Fresh Artichokes (Both Italian & French Methods)
Dessert: – The Perfect Chocolate Fondant
Saturday Drinks & Lite-bites Reception 5pm – 6pm Location:  Oranmore Castle
The afternoon will conclude with a drinks & lite-bites reception in the neighbouring Oranmore Castle where you will be presented with your Oranmore Cookery School Diploma
Sunday Cookery School Demonstration 10am – 12pm Location: Brazco Coffee Academy
Maureen Lydon will welcome you to an interactive baking demonstration in the training room at Brazco Coffee Academy. With the help of volunteers from the group, Maureen will demonstrate her famous recipes. Relax with a cup of tea or coffee, there will be plenty of scope for Q&A to test Maureen's encyclopedic knowledge of baking. 
The Menu:
Traditional Brown Bread
Classic Fruit Scones
Treacle Bread
Bread & Butter Pudding
Sunday Lunch from 12pm Brazco Coffee Academy – enjoy a complimentary lunch from Brazco
Dates for 'Chef to Impress' Cookery School weekends.
25/26 April,
26/27 September
10/11 October
Reservation Details:
Cookery School weekend package price €140 per person.
Places are limited so reserve your place asap by contacting Natasha at Armorica 091 388 343 / natasha@armorica.ie